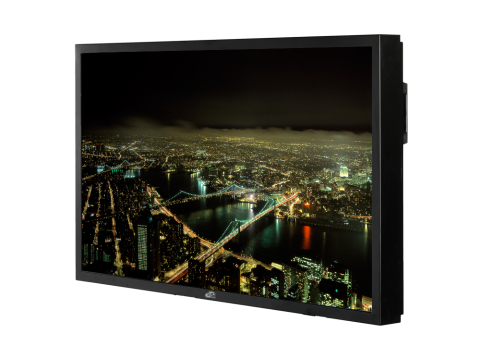 Contrast
When dealing with contrast figures of HDR47E series monitors, their specific hardware peculiarities must be taken into account. 
Full ON full OFF contrast is virtually infinite: when a totally dark image is visualized, the monitor can turn the relevant LEDs off, resulting in a zero value light level.  
The definition of dynamic level differs from traditional monitors where the only component to take into account is usually the LCD panel. For HDR47E monitors we must consider LCD panel and backlight which have different spatial resolution. Even with 2202 independent light activation zones, there is a certain degree of averaging for very small dark or light zones. 
So the contrast level can sometimes be affected by specific "extreme" kind of contents. We talk of "extreme" contents because this behaviour is almost totally limited to artificial inputs such as traditional measurements patterns. 
Real world images usually do not show extreme transitions on small areas and fit perfectly HDR47E, resulting in really high contrast levels.
Upon request, we can provide contrast measurements for any custom pattern provided by the customers, reflecting their specific applications fields and visualization requirements.
The best way of getting reliable data is using real images from the customer's workflow. No other HDR monitor manufacturer offers this kind of service to the potential customers.
Colorimetry
The main focus for the HDR47E series is on brightness, image control and reliability. Such premises led to the choice of reliable and well-tested LCD panels featuring the sRGB color gamut. sRGB is the standard for current video formats, and the HDR47E panel, combined with the specific LEDs light emission, can guarantee to cover at least 90% of its extension.
Stable colours rendering over long working sessions, day after day, is what matters more. Thanks to extensive research and testing, SIM2 managed to get such result even under the demanding working condition of the massive light emission unique to our HDR monitors.