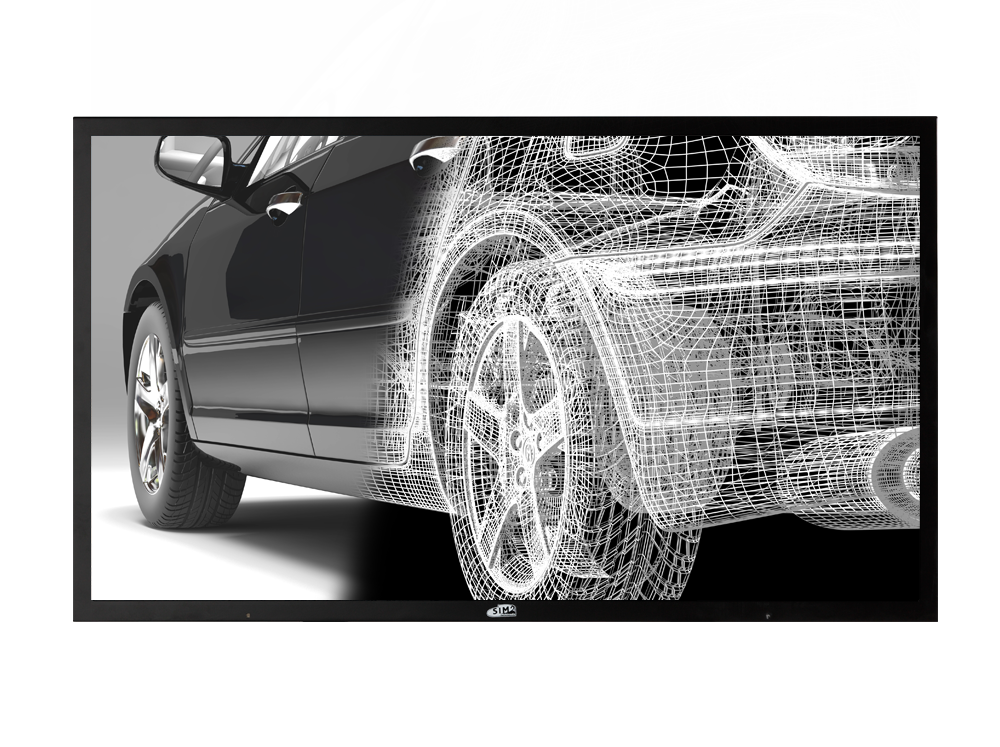 HDR47ES4MB - more than 4500 nits peak brightness
The HDR47ES4MB is the best seller from our well known high dynamic range monitor series, it has become a de-facto standard for high dynamic range standard definition and evaluation for the most influential players.
About 5000 nits max brightness
A de-facto standard for HDR visualization definition and evaluation
New power management
HDR LCD Display with 2202 individually controlled LED backlight modulation
Full HD 1920x1080 progressive scan resolution
Real open format HDR input through a standard DVI hardware bus
DVI Plus mode allowing complete control over the monitor panel and backlight
Discover all the proprietary technologies and engineering peculiarities, making our HDR47 series of monitors unique products, in the TECHNOLOGY SECTION of the website.
You will discover how you can leverage them for reaching your goals for high dynamic range visualization requirements.
Typical Applications
The HDR47ES4MB is our best seller. Its great performances and adaptability made of it the reference monitor all through the modern development of HDR technology. Incremental improvements made for better performances over time, but always with a focus on keeping a consistent and reliable behaviour.
The HDR47ES4MB is a de-facto standard for HDR visualization standardization groups as well as for many major player in advanced visualization market.
Discover a quick list of typical applications for which our customers have found it being a game changer in the APPLICATIONS SECTION , some of them are:
HDR definition and evaluation
University and Research Centers
HDR production and 
HDR Imaging applications
Specifications
Evaluating the real world performances of such a peculiar product requires to understand how the astonishing figures translates into real images. Have a quick peek at out PERFORMANCES PAGE where you will find a quick summary of the most important facts and figures to take into account on the matter.
Find below a table of the general specifications shared by all the monitors​
Electronics and display
Display
47" LCD panel native 16/9 format
Type
LCD TFT Display with LED Back Light Unit
Back Light Technology
2202 independently controlled LEDs for local dimming, custom technology
Resolution
FULL HD (1920x1080 pixels)
Pixel pitch
0,5415mm x 0,5415mm
Active Screen
1021x572mm
Peak Brightness (from 5% to 50% of the panel area)
According to models
Brightness with full white screen
>2300 cd/m2
Brightness uniformity
+/- 10% (90%) (ANSI 9 points)
Contrast
from 16 to 17.5 f/stops
FULL ON/OFF Contrast
virtually infinite
Color gamut
>90% of Rec 709 color gamut (VESA 302-4 )
Color uniformity
∆u', v' < 0,002 (VESA 306-1,5)
White point
native 6000K +/- Totally adjustable in Normal mode (5000k – 9000k)
LED B.L.U. life time
> 20.000 hours
Number of colors
1,048,576 shades per primary colour
Internal processing
proprietary >30 bits/Colour on Programmable Logic
Viewing Angle (V&H)
+/- 85°
Typical response time
5ms
Inputs/outputs
1x CVBS1
 
1 x VIDEO on BNC
 
1 x S VIDEO
 
1 x RGB on HD15,
 
1 x RGBs/YPrPb (4 x RCA)
 
1 x RGBs/YPrPb (4 x BNC)
 
2 x HDMI 1,3 single link specification up to 165MHz
 
1 x DVI PLUS(HDR)
 
1 x HD-SDI Dual Link & 3G RGB
 
1 x DVI
 
1 x RS232 (D-sub 9 pin x 1)
 
1 x USB 1.1 (2.0 compatibile).
 
1 x ETHERNET LAN RJ45
 
General Information
Power Supply
100-230VAC, 50/60Hz
Maximum Power Consumption
<1500 W
Stand by POwer Consumption
< 5W
Weight (approx.)
45kg (without optional base); 3kg (base)
Dimensions HDR47
1106 x 650 x 160
Packaging Dimension
1220 x 680 x 940
Mounting Interface
available , on request , accessory to provide an interface compliant to Flat Display Mounting Interface Standard (FDMI) - Ver. 1 Rev 1 - VESA-2006-2
Cabinet colour
Matte Black
Operating temperature
5° to 35 °C
Transportation temperature
-15 to 55 °C
Storage temperature
-15 to 55 °C
Humidity
20% to 95% non condensing
Documents
Specification Sheet
Brochure
Technical Whitepaper